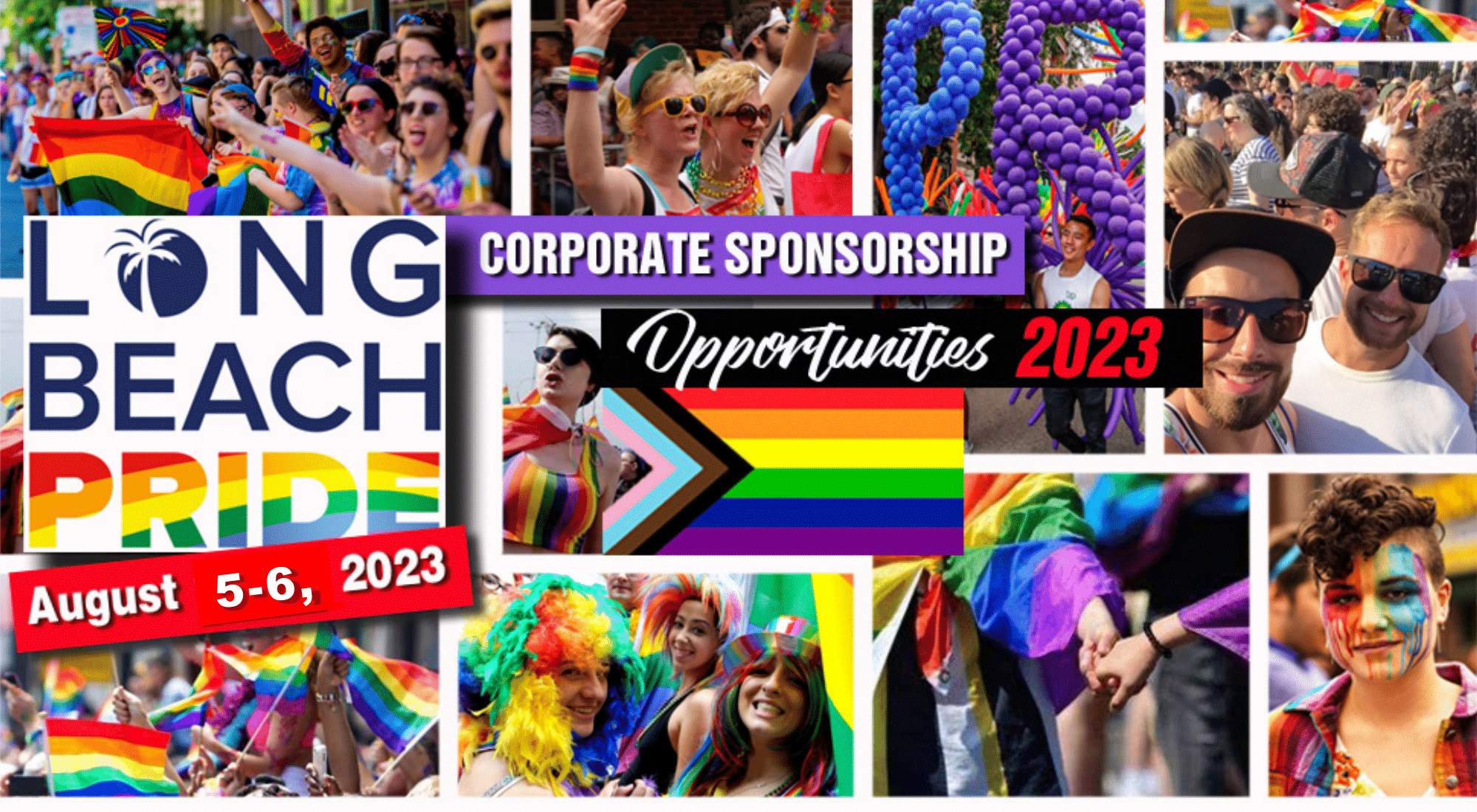 The Long Beach Pride Parade is an annual event held in Long Beach, California, that celebrates the LGBTQ+ community. The parade typically features colorful floats, marching bands, community groups, and thousands of spectators. It starts at the intersection of Ocean Boulevard and Lindero Avenue, then proceeds west towards Alamitos Avenue.
click for sponsorship info
THE SISTERS OF PERPETUAL INDULGENCE NAMED GRAND MARSHAL OF LONG BEACH PRIDE'S 40TH ANNUAL PARADE
The Controversial Pro LGBTQ+ Organization Will Lead the Parade On the Heels of its Triumphant Appearance at Dodger Stadium Last Week!
LOS ANGELES, Calif. (June 29, 2023) – The Los Angeles Chapter of the Sisters of Perpetual Indulgence, the controversial LGBTQ+ rights advocacy group, has been named grand marshal of Long Beach Pride 40th Annual Parade.
"Long Beach Pride is proud to present The Sisters of Perpetual Indulgence as our 2023 parade grand marshal," said Elsa Martinez, Long Beach Pride co-president. "Despite the recent controversy involving their invitation to Dodger Stadium, the Sisters of Perpetual Indulgence are known for their tireless efforts for LGBTQ+ rights and their support for those impacted by HIV and AIDS, thus we welcome the sisters to Long Beach Pride!"
"Having seen the good work they do and the amazing support they've received this past week, it was only natural to ask them to join our celebration," said Denise Newman, Long Beach Pride co-president. "We are looking forward to seeing Sisters of Perpetual Indulgence as parade grand marshal!"
The sisters will serve to kick off the parade which will be held from 10:30 a.m. to 1 p.m. Sunday, Aug. 6 on East Ocean Boulevard, between Lindero Avenue and Alamitos Avenue in Long Beach. The parade will feature colorful floats, marching bands, community groups, and thousands of spectators.
Founded in 1995, the Los Angeles chapter of the Sisters of Perpetual Indulgence is non-profit organization that raises funds and provides community support for underserved and underprivileged people and organizations in LGBTQ+ communities. Known for their nun garb and white face make up, the group, aims to raise awareness of the issues facing the LGBTQ+ communities.
The organization comes to the event after facing controversy when the Los Angeles Dodgers invited the organization to a June 16 game to receive its Community Hero Award. But after some backlash, the team rescinded the invitation, only to re-invite the nuns when their supporters voiced their outrage.
Long Beach Pride will begin with Teen Pride taking place Aug. 4, followed by the Pride Festival on Aug. 5-6. The event will also feature a drag show, Family Fun Zone, food trucks, vendors showcasing local artists and special community programming and more. Early Bird discounted tickets are available now at LongBeachPride.com.
ABOUT LONG BEACH PRIDE
With a mission to produce and support activities that educate, encourage and celebrate LGBTQ pride, education and inclusion, Long Beach Pride was established in 1983 by a small group of community activists who sought to bring the LGBTQ community together and honor their contribution to the area's growth and unique cultural identity over many years. Over the years, the festival has gone on to create a cultural phenomenon that gathers A-list celebrities, Grammy-winning artists and more than 80,000 visitors each year to its three-day celebration. For more information, please visitLongBeachPride.com. or follow the organization on Facebook, Instagram and Twitter and YouTube.
Contact: Scribe Services Public Relations
(818) 263-6250
Carlos Martinez
[email protected]
ST. MARY CENTENNIAL BIRTHDAY PARTY AND STREET FAIR
Dignity Health – St. Mary Medical Center is celebrating its 100th year of serving the greater Long Beach  Community with a centennial observance stretching from now through March of 2024.  
Since 1923, more than 3,000,000 patients have been admitted to St. Mary, with millions of others treated as  outpatients and more than 200,000 babies born. A major presence in Long Beach, St. Mary Medical Center  employs more than 1,500 people and has an operating budget in excess of $450 million dollars. 
St. Mary Medical Center makes Long Beach a better place for all people, especially those who are most  vulnerable. On any given day, 70% of the patient population is underinsured or without any insurance.  St. Mary Medical Center provides more than $60 million of community benefit through unreimbursed medical  services and programs – many programs working in collaboration with other nonprofits – throughout Long  Beach and the surrounding area. 
Coordinex, a full-service event company, is privileged to have been chosen by St. Mary Medical Center  Foundation to bring a special day-long Centennial Street Fair with food, drink, cultural dances, live music,  local merchants and family games and activities on the campus of St. Mary Medical Center on Saturday,  September 30, 2023.  
St. Mary Medical Center Foundation welcomes your support of this joyous community event. On September  30th, as music plays and crowds stroll through the Centennial Street Fair, your company name could be on  display at a booth, on a tent, or on stage. Proceeds from the Centennial Street Fair will benefit the programs  and services provided at St. Mary Medical Center.  
With levels that feature radio, TV spots and social media, sponsorship is a highly effective way to put your  service or product in front of an audience who enjoy having a good time and supporting St. Mary Medical  Center and its service to Long Beach. 
click for sponsorship info